Brian Teachout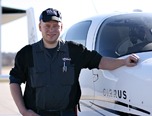 Brian is a full-time A&P and holds an Associate of Applied Science Degree in Aviation Maintenance Technology from Indian Hills Community College. He has completed the Cirrus Design AvMx Maintenance Training course and the Cirrus Composite Repair Lab at the factory in Duluth, MN.
Brian is Classic Aviation's expert painter and has completed PPG certified technician training.
Brian, his wife, and two daughters live on an acreage in the Pella area.