Jeff Uitermarkt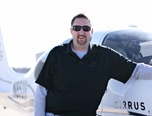 Jeff has completed the instructor training requirements and provides Cirrus Standardized Instruction under Classic Aviation's Cirrus Training Center. He also provides CFII and Commercial Pilot Services and holds an Associate of Applied Science in Aviation Flight Training from Indian Hills.
Jeff holds an Airline Transport Pilot Rating with a single-pilot type rating in the Beechcraft RA390 Premier, and in the Embraer EMB500 Phenom. Jeff also holds a second-in-command type rating in the Hawker/Beechcraft BE400.
Jeff's specialties are providing pilot service for corporate customers in Cirrus as well as turbine aircraft and helping Classic Aviation customers get the most out of their Technologically Advanced Aircraft by training them in the real world cross-country environment.
Jeff, his wife Tricia, their two sons, and daughter live near Lake Red Rock in the Pella area.