Haven Hick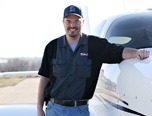 Haven is a full-time A&P mechanic and holds an Associate of Applied Science Degree in Aviation Maintenance Technology from Indian Hills Community College. Haven holds an FAA Inspection Authorization and also performs pitot static and transponder checks under Classic Aviation's repair station.  He has extensive turbo-jet and turbo-prop maintenance experience and has worked on turbo-jet aircraft in a factory service center.
Haven has completed initial maintenance training on the Cessna Citation 560 series aircraft, Embraer EMB500 Phenom, and has also completed the Cirrus Design AvMx Maintenance Training course and the Cirrus Perspective by Garmin Line Maintenance Training. Additionally, Haven spent a week in Mobile, Alabama completing the Teledyne Continental Motors Aviation Technician Advanced Training Program, and has completed the American Bonanza Society's Maintenance Academy.
He recently completed a half marathon to raise funds for Leukemia research. Haven, his wife, and three sons reside in Peoria, IA.