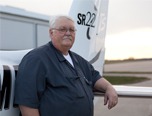 Mike Lossner literally has a lifetime of aviation experience.  Mike grew up helping his family rebuild and maintain aircraft at Des Moines North Field Airport—family pictures show him doing fabric work at age 10.  
Mike learned to fly in his families Meyers OTW biplane and received his private pilot certificate in that same airplane as well.  Mike is trustee at the Airpower Museum in Blakesburg Iowa, and is a longtime aircraft owner who has owned a J3 Cub, Cessna 120, Piper Vagabond, and currently owns a Piper Tripacer.  
Mike holds an A&P Certificate with an inspection authorization, and brings a wealth of knowledge and experience to Classic Aviation's maintenance department.
Contact Mike by email: mike@flyclassicaviation.com