Aviation Careers – FAQ 
Where can I obtain pilot training?
Right here in Pella at Classic Aviation, Inc. Classic Aviation offers flight training for every level of pilot from your private pilot to airline transport pilot certificate. You can also earn your instrument and multi-engine ratings. We even train certified flight instructors so you can teach others. Need a tailwheel endorsement, high performance/complex aircraft endorsement or spin training? We do that too! With 4 certified instructors available and the most diverse training fleet in the area, scheduling is flexible.
What kind of aircraft will I fly?
We have a professionally maintained fleet of aircraft to serve your needs. Most private pilot and instrument students begin training in a Cessna 172 Skyhawk. Our Beech S35 Bonanza is an excellent high-performance, complex training platform for commercial applicants. Our multi-engine trainer is a Beech Duchess. For those looking to get a head start flying a glass cockpit aircraft we have a Cirrus SR20. You will have to travel a long way to find a nicer, more diverse training fleet in which to accomplish your goals. Visit our Aircraft Rental page for more details. (Aircraft rental prices do not include instruction.)
Will I have to travel to another location to take my FAA practical exam?
No. Classic Aviation saves you time and money by having an FAA designated examiner on staff.
How much will this cost?
We are happy to provide quotes for pilot training at any level. You can see hourly rates on our Aircraft Rental and Flight Instruction webpages. We work hard to keep our rental and instruction rates very competitive. We think that when you compare aircraft quality, instructor dedication and experience, and comfortable training environment, you will find Classic Aviation's flight training to be the best value in the business.
How do I get started?
Beginning your flight training is as easy as dialing (641)628-9393 and scheduling an introductory lesson.During this thirty-minute lesson you will get a hands-on introduction to maneuvering the Cessna 172 in flight. From the takeoff roll to touchdown, you will fly along with the instructor.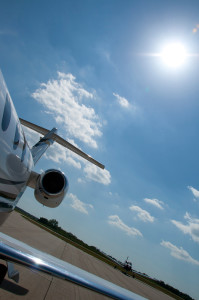 Usually, on the takeoff climb, the instructor will change from actively flying along on the controls to verbally coaching only. You might not even notice that the instructor has released control to you as the airplane climbs to cruising altitude! Once at cruising altitude, you will be introduced to the four fundamentals of flight:
straight and level flight,
level turns,
climbs, and
descents.
All other flight skills are built upon these four skills. You will be amazed at how quickly the time will pass by, and returning to the airport for your first landing will be the finale of this short lesson. Once on the ground all you have to do is schedule your next lesson in order to continue working toward your private pilot certificate.

What kind of aviation careers are out there?
There are so many careers available in the aviation industry that it is impossible to name them all, but here are a few examples:
Flight instructing allows you to share the joy of flight with others.
Corporate pilots fly for companies large and small all over the world.
Commercial airline pilots fly millions of passengers every day.
Sky divers need someone to get them up to altitude.
Air ambulances fly organs to patients in need.
Bush pilots bring supplies to communities who have no other way of receiving goods and services.
If I am pursuing an aviation career, shouldn't I enroll in a collegiate aviation program?
That depends on what your career goals are and what your education background is. If you already have a degree, an aviation specific degree is often not needed at all. Some pilots decide that since a degree is not required for their career goals, a training program like ours offers great flexibility and value.
Does Classic Aviation train under Federal Aviation Regulations part 61 or 141?
Currently, all training provided by Classic Aviation falls under FAR part 61. There are pros and cons to both types of training, but we feel that FAR part 61 training provides the most flexibility and value for most pilots.
Why should I choose Classic Aviation?
We encourage potential students to shop around and compare. When you commit to a flight training provider, you are building a foundation for your career. We think that when you look at Classic Aviation, you will find quality, well-maintained aircraft, dedicated, passionate and experienced instructors, and an overall professional atmosphere that is conducive to learning. We hope you stop by and check us out soon!