Business/Pleasure FAQ
Where can I obtain pilot training?

Right here in Pella at Classic Aviation! Classic Aviation offers flight training for every level of pilot, from private pilot certificate through commercial, instrument, and even multi-engine ratings.  Our central Iowa location offers the perfect combination of controlled and uncontrolled airspace, real-world weather conditions, and great flying destinations within range of our training aircraft. With 4 certified instructors available, training can be flexible. Additionally, with an examiner on staff, you won't even need to travel to take your final FAA practical exam.
I don't have any experience with aviation and I don't think I will be a natural pilot. How can I find out if flying is for me?
Start with an introductory flying lesson here at Classic Aviation. We have a long history of training pilots from all walks of life. In most cases if you have the desire, we can help you achieve your goals. Flying means different things to many people, but we think you will find it a life changing experience and an irresistible challenge.
What are the requirements to become a private pilot?
You must be at least 17 years old.
Must have logged a minimum of 40 hours of flight time
Must have passed the FAA written examination with a 70% or greater score
Hold a third class medical certificate which is a physical given by a licensed physician
What is the training sequence?
Presolo flight training
1st Solo
Cross country flying, night, and basic instrument flying
Practical test preparation
What kind of aircraft will I fly?
Most students begin training for the private pilot certificate in a Cessna 172 Skyhawk. This is a four place airplane with a 150 horsepower engine. The cruise speed of this airplane is approximately 120 MPH. Also available is our Cirrus SR20. This four place airplane has a slightly larger powerplant and is equipped with advanced safety features such as a glass cockpit and an airframe parachute system.
I already have an aircraft. Can it be used for training?
Yes. Our instructors are experienced in a wide variety of aircraft and can teach you in the aircraft you'll be flying after your get your certificate. This will reduce cost it takes to receive your license. We are proud to have helped many pilots achieve their training goals in their own aircraft.
How long will it take?
The length of training depends on how often you can fly as well as how quickly you learn. This can be as little as 30 days or as long as 3 years.
Does my private license ever expire?
No, your license does not expire, although to continue to act as a pilot in command there are certain currency requirements that must be met. In addition you will need to complete a flight review every two years with a qualified instructor. Your pilot's license is a lifetime license. If you need to step away from flying for a while, there is no retesting requirement. You would simply need to work with a flight instructor to become current again.
How much will this cost?
To get a private pilot's license, the cost will vary for each individual. Currently the cost of the airplane and instructor is about $160/hour, so most lessons cost less than $240. We estimate the average cost from no flight experience to your license as being around $8,300-$9,300. So for much less than the cost of that motorcycle, jet ski, or snowmobile, you could earn a lifetime license that could open up a lifestyle of which you never dreamed.
How do I get started?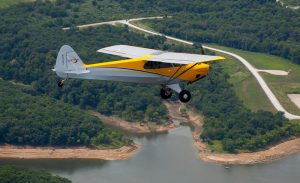 Beginning your flight training is as easy as dialing (641)628-9393 and scheduling an introductory lesson. During this thirty-minute lesson you will get a hands on introduction to maneuvering the Cessna 172 in flight. From the takeoff roll to touchdown you will fly along with the instructor. Usually, on the takeoff climb, the instructor will change from actively flying along on the controls to verbally coaching only. You might not even notice that the instructor has released control to you as the airplane climbs to cruising altitude. Once at cruising altitude you will be introduced to the four fundamentals of flight. They are: straight and level flight, level turns, climbs, and descents. All other flight skills are built upon these four skills. You will be amazed at how quickly the time will pass by, and returning to the airport for your first landing will be the finale of this short lesson. Once on the ground all you have to do is schedule your next lesson in order to continue working toward your private pilot certificate.
I want to fly to meet with clients and associates.
Once you receive your private pilot certificate you can fly yourself and passengers anywhere so long as you are not being compensated for the flight time. For aircraft owners who want to focus on business rather than flying duties, we also offer professional pilot services. Our commercial and airline transport pilots can accompany you on your trip in a variety of aircraft.
Time flies: Isn't it time you became a pilot?